An organization that stands for friendship, fellowship charity and good times. It stands for busy, worldly men who take the time to give those less fortunate a helping hand. It stands for warmth, strength and shared laughter.
Mission Statement
To facilitate and encourage lifelong friendships while performing charitable works on behalf of children in need.
Helping to Feed Hungry Children in Orange County
 ORANGE COUNTY CHARITY FOR DISADVANTAGED CHILDREN
The Roosters Foundation is a charity and social organization, consisting of 100 professional men, with diverse backgrounds, from the greater Orange County area of Southern California. Each year, we raise hundreds of thousands of dollars for disadvantaged children. 2018 marked the 41ST year that the Roosters have been active in philanthropy and outstanding community service. We are a 501-C-3 tax-exempt corporation (33- 0764177) that provides a cost-effective means of fundraising with marketing advice and support for small, local children's charities and community groups that do not get national or government funding.
The Roosters Foundation has been recognized by the Orange County Board of Supervisors, the State of California, the United States Congress and the White House.
ANNUAL EVENTS
These efforts make the Roosters amongst the foremost men's charity organizations in the United States.
ANNUAL ROOSTERS FOOD DRIVE – DECEMBER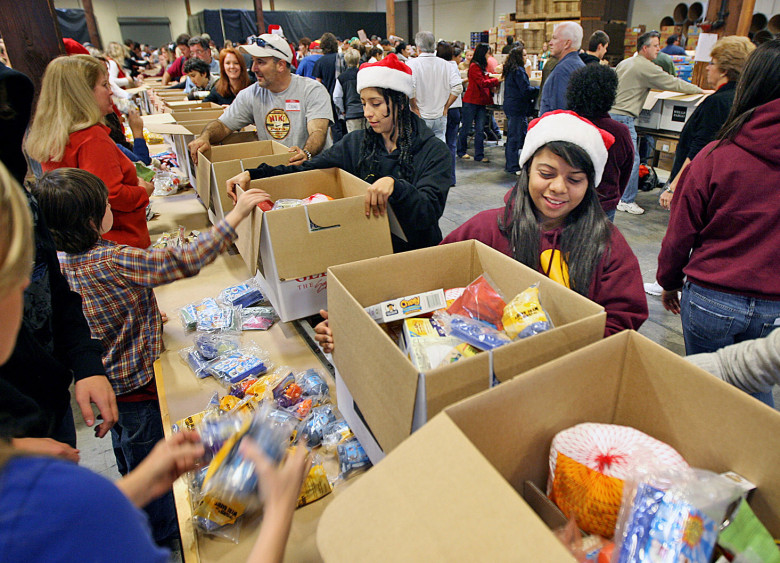 Since 1995, the Roosters have given over 34,000 boxes of food to needy families in Orange County. The food box contains a 15-pound frozen turkey, potatoes, stuffing, carrots, canned fruits, and vegetables to feed 8-10 people. As of our 23rd annual event in 2018, we have fed more than 340,000 people.
In 2008, Jon Giberson became the event chairman, moving the Food Drive to Second Harvest Food Bank of Orange County. This saved several thousand dollars a year and improves logistics.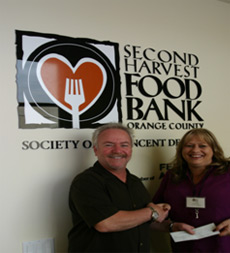 Roosters Awards Check to Second Harvest Food Bank
Roosters Treasurer, Jeff Scheibner, Presents a Check to Second Harvest Food Bank for 3500 Turkeys
Lorina Smith, Food Resources Coordinator for Second Harvest, accepts a check for $13,500. This was the down payment on the approximately 3,500 turkeys that we will give away this December at our annual Food Drive. The budget for this year's Food Drive is only about $60,000 thanks to Food Drive Chairman Jon Giberson, Chairman Emeritus, Jeff Smith and the buying power of Second Harvest because they were able to negotiate a reduction of the price for the turkeys from $1.29 per pound down to $.89 per pound. Last year, the budget was about $75,000 to buy and distribute 3,500 turkeys and all of the fixings.
Roosters Awards Grant to Fristers
Alli Woodard, Executive Director of Fristers, received a check for $4,000 from Roosters Charity Chairman, Lou Gardner. Fristers is an organization dedicated to addressing the unique needs of teen mothers, ages 13-25. Our mission is to provide a weekly program that provides parenting and life skills education, community resources, tools and real life stories to equip young moms so that they can lead successful, self sufficient, not system-dependent, lives.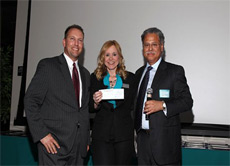 Roosters Awards Check to Crime Survivors
Lou Gardner, Roosters Charity Chairman, presents a $4,000 check to Patricia Wenskunas, Founder/Chief Executive Officer of Crime Survivors and David Hayward, President, Crime Survivors. Crime Survivors is committed to serving the community by being an advocate and resource for crime victims and their families. If a victim doesn't know where to turn, or is confused or frustrated with the public services that are available as they recover or seek justice, Crime Survivors can help.