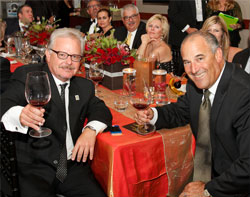 Never before has there been a need as big for the Roosters to be involved with community charity programs in Orange County as there is today.
Support children in need; raise money for disadvantaged and high-risk children.
MEMBERSHIP = COMMUNITY & SOCIAL INVOLVEMENT
A blend of high-performance and interesting people.
Men's social and charity organization founded in 1977.
The Roosters is comprised of professional businessmen that each year raise hundreds of thousands of dollars for disadvantaged children.
The objectives are friendship, fellowship, charity and good times.
Once a month gourmet luncheons, quality guest speakers and conversations.
The Roosters would like to extend to you an invitation to apply for membership become a member in "The Roosters", a social and charity organization that has been meeting for over 40 years. Please attend the next luncheon. All luncheons are held on the second Thursday of each month. The cost is $40.
On the last Thursday of each month, a social mixer is held at a prominent restaurant, hotel or Rooster member's home in Orange County. During the year, events are held that appeal to a wide range of interests and focus on opportunities to network and have fun. Our fundraisers raise necessary funds for children in need and at risk. We have received numerous awards for outstanding community service.
From socials events to evening outings to wine tasting and special events, Roosters membership has its privileges.
Please contact John Hinson at (714) 425-6407 or email membership@roostersfoundation.org for more information
You may email your membership application to membership@roostersfoundation.org.
The cost of membership is $400 per year plus a one-time application fee of $50.
Roosters Creed
An organization that stands for friendship, fellowship, charity and good times. It stands for busy, worldly men who take the time to give those less fortunate a helping hand. It stands for warmth, strength and shared laughter.
Mission Statement
To facilitate and encourage lifelong friendships while performing charitable works on behalf of children in need.